Larry Darbonne
Larry is from California, but his roots include the Louisiana Cajuns and native Americans. As a young boy on the central coast, he became fascinated with a man that could perform miracles with cards at the local county fairgrounds booth. Since then, Larry was hooked to the idea of discovering and creating amazing mysteries.
While growing up, Larry also had strong interests in water sports, flying, Scouting and music. He was a competitive swimmer, water polo player, water (both liquid and frozen) skier, lifeguard, swim instructor, and small boat sailor. He competed in a National Hobie Cat regatta and the California State High School Water Polo Championships, and became the first Eagle Scout from his hometown.
Larry attended the United States Air Force Academy and served 20 years in the United States Air Force. He helped bring critical capabilities to our war fighters, including the F-117A Nighthawk stealth fighter, the B-1B Lancer, B-2 Spirit stealth aircraft, and survivable command and control (C2) systems.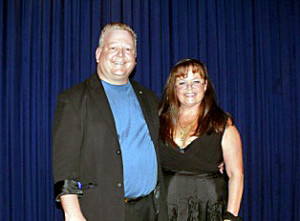 After a 20-year career with the Air Force, Larry joined a company and led the development and installation of radiation detection systems throughout Greece to protect the 2004 Olympic Games. As part of a larger program that was in cooperation with the Russians, Larry had the great opportunity to travel to Moscow and witness first-hand what was behind the "iron curtain".
In 2004 Larry moved back to his home state of California and joined an aerospace company that helps the Air Force develop and acquire communications and GPS satellites. Now in a mecca of entertainment and magic, Larry discovered the wealth of resources available to mystery arts performers.
Larry showcased (auditioned) to a panel of magic superstars and was accepted as a Magician Member of the Academy of Magical Arts, otherwise known as Hollywood's famed Magic Castle. Larry is also a member of the Society of American Magicians and Assembly 22, as well as the premiere Southern California mentalist group. At Las Vegas' famed McBride Mystery School, Larry refined his skills at their Mentalism Master Class and trained in creating high-impact experiences that are meaningful to the participants. 
Larry is married to a fabulous lady, Jean, a person who is no stranger to performing musicals for community theater. She is an operating room Registered Nurse at Torrance Memorial Medical Center because her life's calling is to help people in very meaningful ways.
Now Larry and Jean travel to wonderful destinations – discovering each location's mysteries, learning, and finding ways to bring those experiences to the benefit of others.